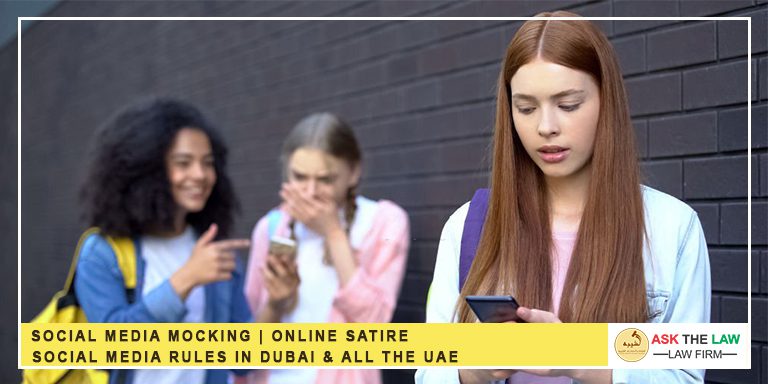 Social Media and its importance are a hot debate in every society now. Like any other thing in the world, it has its Pros and Cons, together. Social Media is a platform where everyone has access and freedom of speech. That is why Social Media Content has much importance. Any false information is not allowed and indecent content can be subject to question, or punishment. Social Media Posts and campaigns should not be contradicting, promote or expose sensitive things, or reveal secret information. UAE is the most developed country in the world, where the country and its society is disciplined and organized. Therefore, social media mocking and satire laws do exist in UAE too. Federal Decree Law 34 of 2021, explains and stops the cybercrime of false news and rumours spread by anyone in the country, on social media networks, or using any other mediums.
Any kind of fake news, fake data, false news, misleading facts, rumours, false context, false content, false directions and maps, videos, audios, false slogans, false campaigns etc are not allowed in UAE. The breach can cause fines and detentions. Therefore, while living in UAE, the residents must be quite responsible towards their living and their social obligations. As stated, before that, imprisonment/detention can be along with a fine. For example, Article 52 goes into much better detail about this e.g. anyone found guilty, of spreading false news, information and facts can be or shall be sentenced for not less than one year with a fine of not less than AED 100, 000. It must be noted that it cannot be less than AED 100000 with a punishment of not less than 1 year.
Article 52, states that Anyone, who is sharing information, secret information, publishing secret news, or spread fake news, or trying to exploit the reputation of others, destroying the peace of others or related to the government, false and incorrect reports, generating false public opinion, disturbing the public peace, trying to create the public opinion based on a false report, or destroying public benefits, etc, will be leading to one year(not less than one year)sentence and fine not less than AED 100000. The penalty can also be not less than two years, and a fine not less than AED 200000. The UAE has strict laws on the web and online checking and punishing convicts. UAE is a developed country therefore all the latest and updated laws need to be implemented to meet the modern world's needs. Digital Authorities like (TRA), is the responsible institute, for managing such stuff.
Read Here: Social Media Data Breach