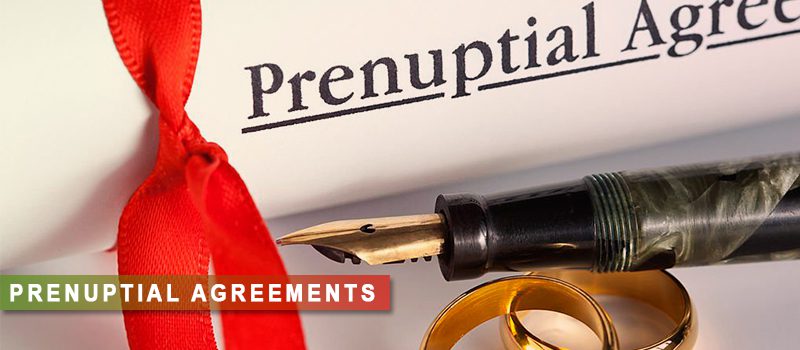 Pre-Nuptial Agreement
A pre-nuptial agreement is also called a premarital agreement. It is a kind of written format agreement where both parties(couple)get into a mutually agreed agreement. They are both agreed on terms and conditions decided by both of them without any pressure. Prenuptial Contract or Premarital Contract between the couple, is all about the time when they both get married or when they have to divorce. Marriage ending due to natural death is also mentioned in a Prenuptial agreement.
The main reason is to create mutually agreed points so they could supersede the laws which are existed before and can be used to make a decision in a personal status case. These personal status laws are supposed to govern and decide the:
Settlements
Distribution of Properties
Savings Plan
Joint Insurance or Investments
Child Custody
Alimony Details
Residency details
It decides about the child custody, alimony, alimony to the mother, etc. It is also good from the financial point of view. Once the relationship is broken the biggest fight is fought over financial assets. It tells how the finance will be arranged in a marriage. Through this agreement, it is decided from the beginning about the distribution of property, bank accounts, or even joint liabilities. It saves the couples from court cases. Therefore, a pre-nuptial agreement will save both parties to face court cases and other complications. It means there will be no requirement for Family Lawyers, Alimony Lawyers or Child Custody Lawyers for the serious kind of court cases. You just need an Emirati Advocate to finish the divorce in Court, amicably.
Prenuptial Agreements = Sepration Agreements
Prenuptial Agreements are also called separation agreements when both couples have decided to reach an end. It means the side agreement which is made due to amicable divorce can be a pre-nuptial agreement too. A well-prepared pre-nuptial agreement, before the marriage, can also be used as a side agreement or septation agreement.
Previously there was no trend or need felt to make such agreements. Now divorce rates have been increased all over the world, therefore couples are preferring to draft pre-nuptial agreements. Best Emirati Law Firms like Al Shaiba Advocates and their best team of Lawyers & Legal Consultants can help couples in this regard. Law Firm and the Lawyer must be professional.
Initially, it was not liked by the traditional houses of people that this is against the dignity of a marriage contract. It will not let the couples become serious in their relationships as they will always be having an exit plan and therefore it will reduce the success of marriages. Such agreements are proved good because it saves the exploitation, useless influence, and pressure by either or both sides.
People who are planning or deciding to become PARTNERS(CIVIL) and want to get entered into a legal agreement, then they have to draft a pre-civil partnership agreement. It will be an agreement where references of both e.g. Pre-Nuptial Agreement and Pre-Civil Partnership Agreement will be connected with each other. Pre-Nupt Contract will be having references and details of Pre-Civil Contract between couples.
Postnuptial Agreement
Post-Nuptial Agreements are almost like Pre-Nuptial Agreements where the content of the agreement or contract is the same but the key difference is, that it is made after the marriage. When the couples have become the couple legally and the decision to draft such an agreement then it is called a Post-Nuptial Agreement or Post-Nuptial Contract. When Pre-Nup is not made or could not be made due to time then Post-Nup can be made. Post-Nup is a good facility with the same course of action but a difference in time. 
It is for EveryOne
Its utility and benefit have proved its value and worth. It is a recommendation that all the people must make such an agreement before the marriage. Better to make a pre-nuptial agreement than a post-nuptial agreement. As stated above, quality Law Firms and Lawyers must be chosen for such work. Our Lawyers in Abu Dhabi by us, offer the same services as in Dubai.