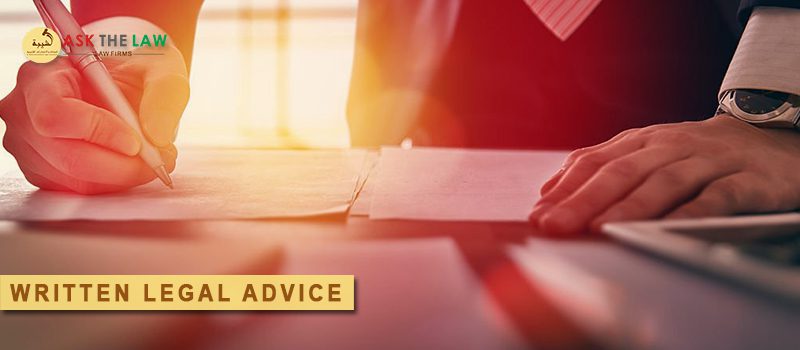 Legal Advice is the expert advice on legal matters by a licensed lawyer or legal consultant. It should not be mixed with legal information or legal knowledge. Legal Information can be gathered, from someone or can be taken online. But legal advice is a different thing. It means it is the solution to any legal query or any legal question, provided by a licensed:
Such advice is provided as per the relevant law e.g. UAE Labour Law, Civil Law, Sharia Law, Real Estate Law UAE, Wills and Estate Law, Family Law UAE, Commercial Law etc. The legal advice is a permanent answer to any matter, therefore the person who seeks the legal advice can take legal action based on it. This is the reason, that only licensed and authorized lawyers, are allowed to provide the advice. It's better to hire a Law Firm rather than a freelancer lawyer.
Written Legal Advice is the advice which is given in written format. It is not given verbally. Such advice can be used as an affidavit. When a lawyer offers the written legal advice on a corporate letterhead then it means he is confirming a Law, or Clause, or Article of law, on that day, the written advice is provided. Lawyers might charge more for this job but if the client asks for this service, then the lawyer has to provide it. Written legal advice is also taken by the clients when they are doubted that a lawyer can also lie in the legal consultation. Well, written legal advice can be served for both purposes. It can be used as an affidavit, or it can also be used as a valid answer received from the licensed and authorized lawyer. Book the legal appointment, with UAE National Top Advocates like Ask The Law Al Shaiba Advocates & Legal Consultants. The reason is such Law Firms are reliable and most trusted.