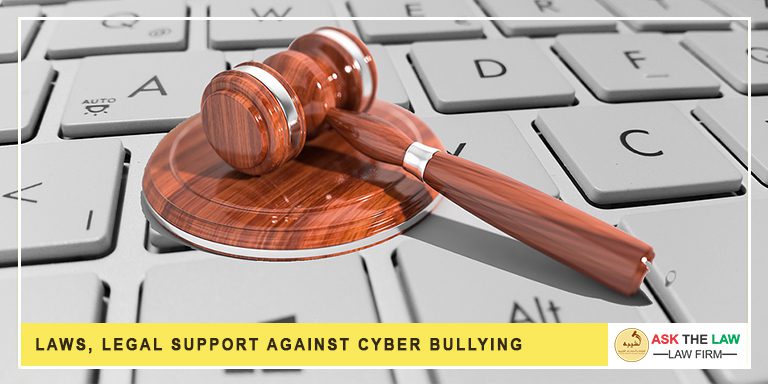 Laws, Legal Support against Cyber Bullying
Laws against CyberBullying
Bullying's Modern Format is Cyber or Internet Bullying, which is through using Online Mediums. It is considered a Crime all over the world. Like several other things e.g. Defamation, Bad Commenting, Online Scamming, Online Frauds, and Online Hacking, The Cyber Bullying is also considered as a Crime. The different formats of Cyber Bullying are, Bad Commenting, Negative Comments, Sexual Online harassment, Sharing Sexual Content, or contacting someone without his permission, sharing offensive data etc. There are many other types of Cyber Bullying, which can be checked with our Lawyers or Legal Consultants for the details. These are the demerits of the Modern Communication mediums which are very much dangerous for those who are celebrities and well-known figures. But the Law and justice are equal for all.
UAE Government always introduces new, modern and amended Laws so the people living in UAE, could not be in a more difficult position ever. Laws are made for the comfort of people and to support government officials to manage state affairs with ease. Like recently, the Virtual Assets Law is introduced by the Dubai Government. Similarly, the UAE government implements a new Law, on Cyber Bullying, Defamation and Wrong Information. The Law is called Federal Decree Law 34 of 2021. Federal Law for Cyber Crimes was first introduced and implemented in 2012. The Law came in 2021 and was an amendment to this previous Law.
With the invention of modern technology, it had been necessary, to introduce such Laws which could properly deal with online crimes or disputes. With the invention of social media, it is also felt that Cyber Law should be introduced. The Cybercrime Law makes Punishment for those who breach the Laws and create problems for others. For example, if a person is insulted then penalties for the accused person will be from 250, 000 AED to 50, 0000 AED. As per Article 43, the punishment can also be a minimum sentence. Apart from this if any action is taken in which, a person extorts others or tries to scare them, then it will also be considered an offence and Cyber Crime, where a sentence or fine can be penalties. If a person by using the technology, threatens people, or viral their videos or any personal content then he would also be punished. If such an activity is performed against the Children then the consequences and the punishments can be much more serious.
Lawyers against CyberBullying
As far as the Lawyers are concerned then, Lawyers in UAE or Advocates in UAE are at their best to offer legal representation in Cyber Crimes, Cyber Court Cases and Defamation Cases. There are many amazing Law Firms and their team of Advocates available in UAE who are fully competent to deal the modern laws, and modern legal requirements. For example Ask The Law – Al Shaiba Advocates and Legal Consultants, one of the best Law Firms in Dubai as well as in UAE. Such Law Firms and lawyers like Advocate Mr Mohammad Ebrahim Hassan Al Shaiba are well educated, experienced and quite modern in techniques.