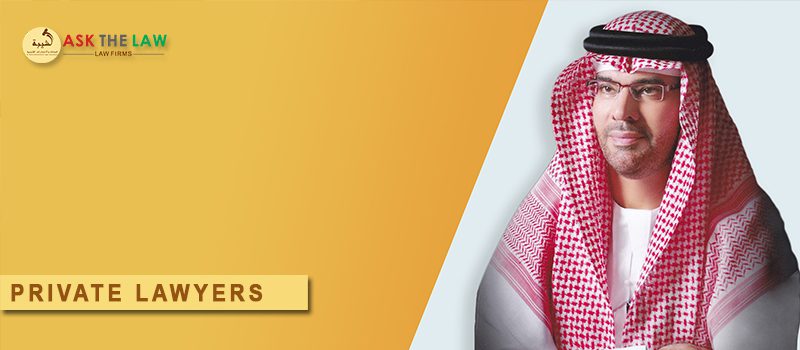 ASK THE LAW – Al Shaiba Advocates and Legal Consultants is a full-service Emirati Law Firm in Dubai but offers legal services throughout the UAE. The Dubai's No.1 Law Firm offers services in all the Emirates e.g. Dubai, Abu Dhabi, Sharjah, RAK, Fujairah, Ajman, Umm Al Quwain and Al Alin. Ask The Law – Al Shaiba Advocates is a Full-Service Law Firm, where the UAE National Lawyers and Legal Consultants, are serving UAE businesses and the people with passion and a professional approach. As far as the subject Private Lawyers are concerned then the lawyers are called Private Lawyers when they serve the individual people, not companies. Such lawyers helping the individuals are called Private Lawyers. It means the lawyers are hired for the individual persons, not for the company or any organization.
The best part of the Law Firm is the cooperation, coordination and teamwork. Law Firms with more than 20 top UAE National Lawyers and Legal Consultants, other legal teams, and paralegals play a vital role in the victory of different legal battles. The expertise and experience gained by our Advocates, can't be found anywhere in UAE. We have a team of top Labour and Employment Lawyers, Family Lawyers, Civil Lawyers, Criminal Lawyers, Real Estate Lawyers, Cyber Security Lawyers, Wills and Estate Lawyers and many more.
Our Legal Services are result-oriented, and our legal services are result-driven. Our legal services are by Dubai and UAE's top Lawyers and Legal Consultants, who are passionate to get accomplishing the impossible tasks and bringing phenomenal legal victories. We are very friendly with the clients and we offer kind of 24/7 services. Our business team responds to legal queries as soon as possible and our legal team answers our clients within one hour.     
Our Labour and Employment Lawyers are considered the top lawyers in UAE for resolving legal issues. These issues are "Unpaid Salaries" to "False Terminations". Such kinds of lawsuits are always between employers and employees.
Well, "Family Disputes" are between couples. Our lawyers do help them in marriage endings which means divorce, alimony, child custody and more. The joint asset distribution also becomes the responsibility of these family lawyers. Family Cases are mostly around Divorce, Alimony and Child Custody.
Civil or Commercial Cases are for financial and business disputes. Civil, Commercial and Business cases are filled in Civil Courts. We have a big team of expert UAE National Lawyers who are experts in business and commercial cases. They also offer outside the court settlements. Compensation Cases like compensation for false labour or criminal cases, and medical malpractice cases are also filled in civil courts by the Civil Lawyers or Civil Attorneys in UAE.
Real Estate Cases are filled for disputes in property buying, selling, renting etc. Such cases are filed either in Land Department or Rental Department or Civil Court. The lawyers who specialized in Real Estate Cases are called as Real Estate Lawyers. Our Chairman, has an extensive experience in UAE properties, buying and selling.