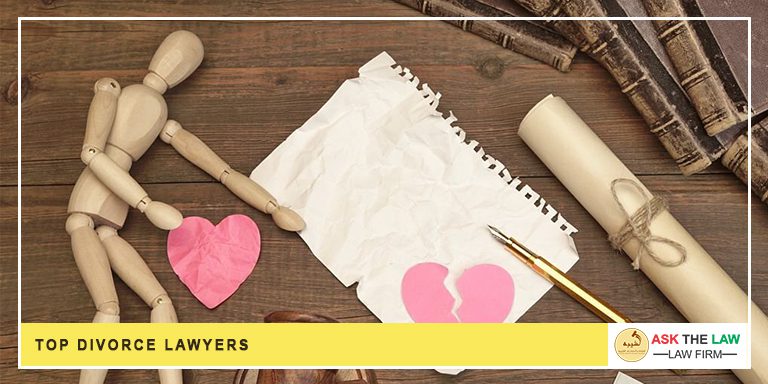 Top Divorce Lawyers play a vital role in the lives of emotionally distressed clients undergoing the trauma of divorce. They not only bring relief to them in complex legal proceedings but also help in shaping their future lives thereon. Hence, considerable effort must be put in to find the best law professional who brings out winsome legal solutions to your complicated life matters. It's good to find out the Top Divorce Lawyers near me, but if you find the opportunity to find the Divorce Lawyers in Dubai, then you can find a few of UAE's Top Divorce Lawyers over there. There are many top Law Firms in Dubai having special expertise in Divorce and other family matters.
Divorce Cases in UAE and any other developed part of the world, always take time. It is always backed by and based on serious domestic disputes. When no party is willing to give up then it means, the case in court will take the time longer than normal time required. These Cases always require the top legal support from the top law firms like Ask The Law Al Shaiba Advocates and Legal Consultants. Such Law Firms are not just having the Divorce Lawyers only, instead, they have a complete team of lawyers and legal consultants. These Advocates and Legal Consultants are not just the UAE National Lawyers, they are at home in Family Law and Personal Status Cases indeed. Therefore when it comes to finding the "Divorce Lawyers" then Divorce Lawyers need to be found Top Divorce Lawyers. All the Family Lawyers or all the UAE National Lawyers are not the Top Divorce Lawyers or Top Divorce Advocates. Therefore it is mandatory to be found the Top Divorce Lawyers nearme or the emirate you need it.
Selection Process:
The selection process for the most suitable divorce lawyers is crucial. However, if serious efforts are made, the results are always fruitful. The first and most important step of this procedural lawyer selection venture is to assess the legal aptitude, talent, education, credibility, and suitability of the lawyer in question. It is always advisable and a worth-it decision to go for an initial consultation session before formally hiring the attorney. This meetup can be a paid or an unpaid interactive session. Some lawyers or law firms often campaign for a free consultation session to increase their clientele base. It is a favourable endeavour for both the lawyer and his client. The client gets his desired lawyer representation. On the other hand, the lawyer gains a marginal financial benefit for the provision of his valuable legal services.
Secondly, clients should stay clear of hiring any such lawyer or law firm that brands itself as a professional law entity or company that takes only high-profile divorce cases. Such branding is meant to increase their marketability, reputation, and fee. However, this approach also dampens their skill in handling diverse case scenarios regarding divorce.  Hence, clients should refrain from getting inspired by such plush and segregated law professionals and law firms that flaunt their marketability more than their actual legal talent and experience. Moreover, such prolific lawyers and law firms that become exclusive to their specific clientele have sky-rocketing consultation and representation charges. Hence, it is advisable to go for such a legal representation that is within your budget. Budget planning is integral to the execution of any formal decision. Legal case proceedings are time-consuming. Hence, financial resources are an important consideration for the client and should not be brushed off while selecting the desired legal representative.
Thirdly, it is a wise move on part of the divorce applicant to hire a credible law firm in case of a messy proceeding. An attorney cannot single-handedly deal with many twisted legal plots in a single case file. Messy divorces have uncooperative parties that are meant to hurt the opposing party by one tactic or the other due to a lack of mutual consent. Hence, it is better to let a law firm, having highly experienced lawyers and consultants on board, take care of your legal concerns and claims in a divorce proceeding.
Conclusion:
Law Firms have a diversely experienced panel of law experts. They use their collective legal talent while working on a client's case file. Such a collaboration is advantageous to the client and the future standing and verdict on his case file. These experts know how to expertly handle any complicated legal aspect that might arise during a divorce proceeding. Hence, they have the best legal solutions, the best defence, and prosecution services that help the client in winning the case and getting what he desires out of a resilient spouse or difficult divorce circumstances.