UAE has been very strict while dealing drugs, mind stress drugs, prohibited drugs, prohibited medicines and all the prohibited stuff. Trade, buying, selling and usage or even keeping of such things are considered illegal. If a person is found breaching the laws or moving beyond the limitations defined under the law, then he can be arrested or investigated. The approach of the UAE government to drug control is based on one golden principle which is according to the principle of Sharia Law, that Zero Tolerance.
There are a number of rules and laws in this regard. These laws are set up with proper research and on proper ground. First of all, a law very first time was introduced almost more than two and half decades before in 1995. Law was given a number and name of Law # 14, for dealing and stopping the drugs and other relevant materials. The very major and specific amendment came in 2016 as Federal Decree-Law # 8, which defines the rules in a much more elaborative way than before. Drugs are not allowed in UAE. The most recent amendments now allow the drug user to relaxation that he can't be deported. But the final punishment until now for drug dealers is DEPORTATION.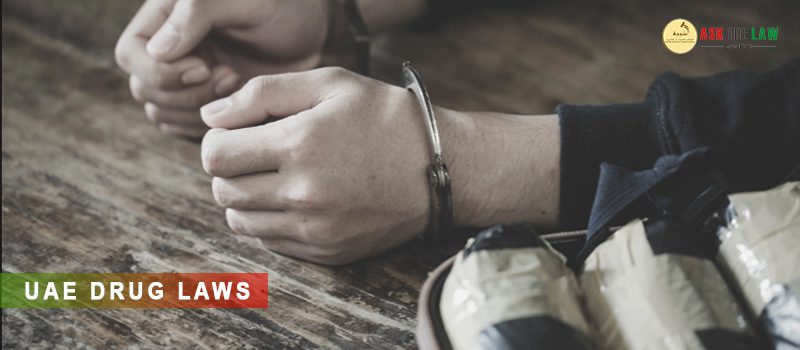 We recommend that person who is addicted in their country, should go for Rehabilitation Treatment, where he should get the complete treatment first and then move to UAE. As UAE is one of those countries where no tolerance is shown by the Government. A tourist who uses drugs is also not allowed to come here, if the drugs are found in his luggage, then it means he will be punished for having this and entering to UAE along with drugs. The Law came in 2016 defines the rules and punishments as follows;
There is a proper process and properly defined punishments for this.
If you are caught dealing or using then litigation/court case is a must.
You can present your medication and treatment prescriptions from your home country for a few medicines you have to use but UAE does not allow it. Again, it will be only a right, rest all depends upon the final verdict or permission of the UAE government.
The Imprisonment, The Deportation and The Fine. All of these or a few of these can be punishment here.
4 years Imprisonment to 10, 000 Fine and Deportation for users.
Deportation might not be a penalty if you are were only consuming.
When you are dealing with drugs then quite strict punishments e.g. 7 to 10 years imprisonment and 50, 000 AED to 5, 00, 000 AED fine amount.
Before the final verdict, a travel ban will also be put on the person or a passport can also be confiscated.
The Law came in 2019, as follows:
Federal Law 5 of 2019
Also, regarding Rehab.
This law very first time threw light on recovery and support to these people who need our support.
Anyone who needs support and rehabilitation will be offered or provided, provided on the circumstances.
The judge has to decide about it, it is the ultimate authority.
Read Here: Drug and Controlled Medicines
The New Law came in 2021, as follows:
UAE revises its rules again in 2021 about Drugs and Mind-Stress Medicines and relevant stuff. UAE has revised the sentences, and prices, offering better rehab support than before. Punishments are reduced and the people who can be qualified to Rehab Centers will be accepted more than before. It means it has been improved. Deportation which was compulsory for the users too has been removed from the mandatory status. Education and Rehabilitation programs are being offered better than before.  
3 Months of punishment are introduced for the offenders. It provides them with an opportunity to get enrolled in Rehabilitation Center and go back to life again.
Article 41 of the Law came in 2021, explains that very first-time offenders will be detained in imprisonment for three months and can be fined from AED 20000 to AED AED 100,000.
If they are the repeater, means he is again found doing the same action again but "Second Time" then imprisonment will be 6 months instead 3 months and the fine can also be extended from AED 3000 to AED 100, 000.
When third time, then Two Years with at least AED 100, 000 AED.
Court has authority to decide either to decide imprisonment punishment, fine punishment or both, in 1st and 2nd Courts. 3rd Court does not allow this, where both imprisonment punishment and to find punishment will be compulsory.
Detention or the imprisonment of these people is not like other imprisonments. Especially in Law came in 2021, the support facilities have been increased. It's a new addition, which is a quite new addition. The new legislation offers the people, better support and service than before. New amendments and legislations will offer an opportunity to people so they could come back to life but only for first-time offenders. As per Article 75 matter of Deportation is fully up to judges. Deportation is a very serious kind of punishment in nature but when the judge finds it much appropriate or required then it can also be decided freely by the judge.
Important Reads:
Law # 10 – 2018 | Establishment of Department of Health
Federal Law 5 – 2019 | Regulation of Practice of Human Medicine Profession