Parent-Child Abduction means this is an act of hiding or keeping the child or children by the parents of his other parents, biological or foster. Question is that how can a parent or parents can be so rude and selfish that they will try to abduct their children. The answer to this is simply that when parents are fighting with each other, or they are seeking a divorce or they want separation then they want to keep control over kids by doing this which is not allowed by Law in the United Arab Emirates.
Read More: Parent-Child Abduction Laws UAE
UAE ties with Global Abduction Laws
Though United Arab Emirates UAE is not part of a Convention conducted in The Hague which is a city on the North Sea Coast of Western Netherlands, in 1980. The convention was on the Civil side of International Child Abduction. It was about where the child has to be returned if taken across the boundaries. UAE is also not the part of Parent-Child Abduction Law where the child has to be returned or taken back. But United Arab Emirates have a few golden rules in this regard, which are fully implemented in UAE.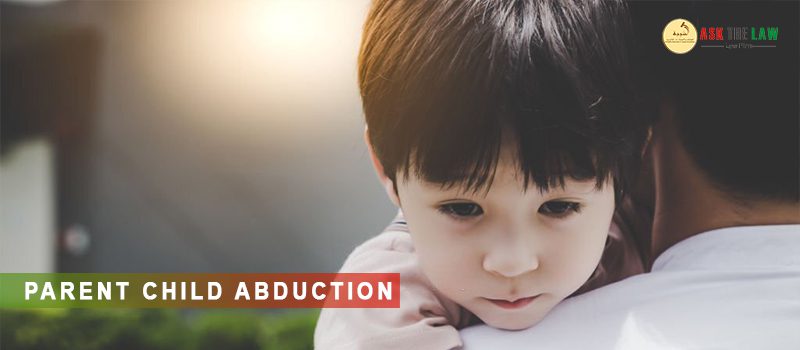 The United Arab Emirates have two-sided contracts with different countries in the world for the abduction laws. UAE's own child custody laws are very beautiful and complete. It means no one can take the child without the consensus of both parties or without the final verdict of the court. UAE does not allow this. Even a travel ban can also be put on the party who keeps the passport of the children. UAE treats the abduction case under child custody laws, where family lawyers or child custody lawyers, help the people in this regard. Well, abduction is a difference in nature.
Maximum Protection and Safety:
The United Arab Emirates provide the maximum protection and the protective environment to its people including Muslims and non-Muslims. Where child custody is given to the mother on priority on the general level then priority is granted to generally a Muslim Father, when the mother is not Muslim. Muslim vs Muslim, it is decided as or by using Sharia Law. For Non-Muslim Parents, it is decided as per their law or Sharia if they are OK with using this. If the father is Muslim then priority is not given to the non-Muslim mother.
Sharia Law:
United Arab Emirates follow Sharia Law as the standard UAE Law. As per Islam if the person is Muslim then Sharia Law will be applicable to him unless he is in non-Muslim countries where he can choose the law as per the relaxations and flexibilities provided by the countries. UAE Law does not force any person living in UAE. The safety and protective environment provided here in UAE by the UAE government is second to None. Therefore, single mothers, families, women do prefer living in UAE.
Further, to this, Abduction Laws and Child Custody Laws can't be grabbed by reading online legal news, journals and blogs. Practical things and the staff are always different from others. Practical things can't be compared with theory. Therefore, a lawyer has to be hired if a person has to apply for child custody or to file the abduction matter in court. We have stated above the two-sided collaboration of UAE with several countries in the world. Now discuss the Lawyers in UAE.
All types of Lawyers e.g. Lawyers in Dubai, Lawyers in Abu Dhabi, Lawyers in Sharjah, Lawyers in Ajman or Advocates in RAK, all are the best lawyers in:
Education
Experience
Exposure
As per UAE policy, the lawyer has to be local, which means UAE nationals. It means UAE National Lawyers will think twice while cheating the client as they have to secure and promote the UAE Identity as well. Therefore, the services by these lawyers are based on 100% honesty and support.
Ask The Law – Al Shaiba Advocates and Legal Consultants is one of the best examples of Law Firms and Lawyers in Dubai and UAE. Such Law Firms are known for:
Establishing the Law Firm as a serious professional business company
Maintaining Discipline
Recruiting only the best and best Lawyers and Legal Consultants
Quality Management
Good HR
Proper evaluation of the work
Chances of learning and growth
A serious business services environment
Law Firms in UAE and Lawyers in UAE have to make sure on the special instruction of the UAE government that justice should not be compromised. Especially the UAE Law experts have to make sure that people are being served on equal grounds.
If a Lawyer is found looting people or cheating them, then there is a serious punishment for him and that is the DIWAN court rule. DIWAN court is the Ruler's Court in every Emirate where the licensee of a Law Firm or the Lawyer can be suspended, he can be given fine or other penalties. Therefore the lawyers must keep in mind that they can't bluff with the clients, and law here in the United Arab Emirates.