Alimony Payments and Divorce Circumstances
Alimony Payments and Divorce Circumstances – Muslim Couples
When the husband does not support his wife or he is absent from taking or paying the responsibilities. It is one of the reasons a married woman can ask for separation, which is legal by Sharia Law or any other matrimonial law in the world. UAE Personal Status Law Article 124, explains that if the husband is not paying the support to his wife, but he is not having enough funds to pay her the monthly amount known as alimony then a woman gets the right to apply for separation in court. The husband might be in trouble or in difficult situations but he has to submit the evidence. But if the woman gets the evidence that she is not being supported then yes, an immediate and quick verdict by the court which is separation or divorce.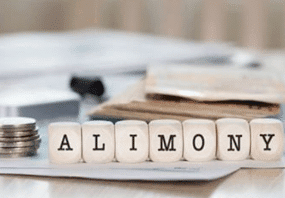 If the husband or his lawyer submitted to the court a reason that husband is not in a good position to pay alimony to the wife then the court is obliged to provide at least one month. The court may also provide the time more than a month but court is obliged and bound to offer at least 1 month to husband. If he fails to pay the life required maintenance to his wife then we have already stated above that court/judge can order a quick verdict which is divorce. As per personal status law if the husband marries his wife, then he has to meet with necessary expenditures. In case of divorce, all such expenses will be a debt on husband, payable to the wife and if she wins the child custody in court then the children monthly expense will be also due to husband.
We will try to understand the concept of Alimony as per personal status Law Article 67 here:
Alimony, is an obligation upon husband towards the wife. It will always be due if not being paid to wife from the date it was stopped paying by husband.
Let's suppose husband has financial burden or debts then it is not waved off or removed. Husband has to pay at any cost as per Law.
It needs to be paid as per the earning level and status of the husband.
Woman's claim can only be for last three years. More than three years will not be entertained by court. But if there has been a special agreement between wife and husband then it is enforceable.
Article 78 personal status Law, states that alimony to children is up to father always. He has to support the children to an age where he can't earn for his self, or which is sufficient he should start earning himself.
If the child's all expense is paid by mother, because father was not able to pay then mother can claim all the expense, she has paid before.
Alimony Payments and Divorce Circumstances For Non-Muslim Couple
A non-Muslim woman has also right as per Personal Status Law to ask for marital rights. She can also file the case in court if she is not getting her rights, alimony and alimony to children. This is as per Article 1, UAE Personal Status Law
In such cases where case if filled of divorce, alimony, custody of children then birth place or the domicile of the applicant and defendant will have the right to be become the place of jurisdiction.
It also provides right to a non-Muslim woman to ask for the divorce if the husband does not pay her the alimony and maintenance.
Role of Family Lawyers:
Role of Family Lawyers can't be ignored or put aside. Court representations always need a technical person and an experienced person.
Therefore, Family Lawyers in Dubai should be hired when it comes to any kind of case like:
Divorce
Custody
Joint Investments or Joint Properties or Joint Insurance Plans
Joint Properties or Joint Businesses
Therefore, these Lawyers are also called in different ways as:
Marriage Lawyers
Divorce Lawyers
Child Custody Lawyers
Alimony Lawyers
No one has won the case without hiring the advocates unless he is an advocate himself. No one has grabbed the real idea by reading online journals unless he is a legal consultant himself.
Therefore "Lawyer Hiring" is a must. People should understand this point before entering into court that they can't win the case alone. At least a legal consultation or every legal memo made by the lawyer will create the difference. If a lawyer for the complete case can't be afforded then legal documentation should be by Emirati Advocates. Emirati Lawyers in Dubai once again lead here as Top Emirati Lawyers and Legal Consultants.
WIN-WIN Situation:
This term is used by different lawyers and law firms. Let us tell you there is nothing WIN-WIN situation in Law. As per Law, no lawyer in the world can determine the level of success but success only. A Win-Win situation is a situation where a level of success is determined or a lawyer can estimate 100% success.
The lawyer has to work harder. The client has to provide the maximum number of evidence and supporting documents. A client has to provide the maximum support to the Lawyer. Once it is all provided then-lawyer has to perform. While hiring the lawyers, there must be no false promises or false expectations.
Recommendation:
Advocate Mr Mohamamd Ebrahim Hassan Al Shaiba of Al Shaiba Advocates and Legal Consultants. He is the senior Emirati lawyer and the legal consultant. He has been answering legal questions in Gulf News for a long time. He has been practising for the last two decades in Dubai and UAE. If a lawyer is chosen over several lawyers, and law firms by a top note News Paper in town then it means, a lawyer is a top lawyer and legal consultant. Advocate Mr Mohamamd Ebrahim Hassan Al Shaiba is the name of quality and trust.