MARRIAGE AND DIVORCE LAWYERS: Its Rates
MARRIAGE AND DIVORCE LAWYERS: Its Rates, Lawyers & Laws in UAE
MARRIAGE is the most important social bonding in every culture and religion in the world. It is necessary for the growth and survival of humanity. Every religion offers special texts and instructions on personal and domestic life. Marriage Lawyers are equally important as business lawyers are, or Employment Lawyers are. Even though the family matters are not being taken on serious grounds as there were used to be taken in past but still the importance of Family Lawyers can't be ignored for Marriage, or even for family disputes. Like other countries, UAE makes the Family Laws for both, Muslims and Non-Muslims. We will not be stating here locals or expatriates, as these laws are not business laws or employment laws. Local Muslim or Expatriate Muslim, all will be treated with and under Sharia Law. Local Non-Muslims, (though all the population of UAE is Muslim) and Expatriate Non-Muslim. For details and latest legal services, Advocates and Law Firms like ASK THE LAW Al Shaiba Advocates & Legal Consultants, in Dubai, can be hired. The best Lawyers in Dubai are available here, in such Law Offices.
DIVORCE RATE
Divorce rate in Dubai in 2020, was 2.00 percent out of 1000 Emirati citizens. Emirati population was recorded in 2022 as 11% of the approximately 8.5 million. It rose to approx. 9 million in 2021. Statistics show that around 360 cases were registered by the Emirati people men and women in 2022. By Emirati husband and a Non-Emirati wife, it was 264 and by the other expatriates with Non-Emirati status, it was 1250. These statistics can be obtained from the government of Dubai.
Read Here: Divorce Lawyers in UAE – Recent Divorce Rate
Marriage Rates:
The crude marriage rate of Emirati was 4.85 in the year 2020. The general marriage rate of Emiratis at marriage age was recorded as 7.18. The net marriage rate of Emiratis unmarried was recorded as 13.22 in the year 2020. The rate is calculated as the number of marriages cases per 1000 population whether unmarried, married, mid-age etc, as per the statistics we are searching for.
Marriage Contract Registered:
The marriage contracts registered in the year 2020 between Emirati wife and husband were 1295. Marriage contracts registered between Emirati Husband and Non-Emirati wife were 786. Non-Emirati Husband and Non-Emirati Wife were 2968. Statistic Report by Dubai Government between 2016-2020 can be read as well for getting the details someone is looking for.
UAE Population Split: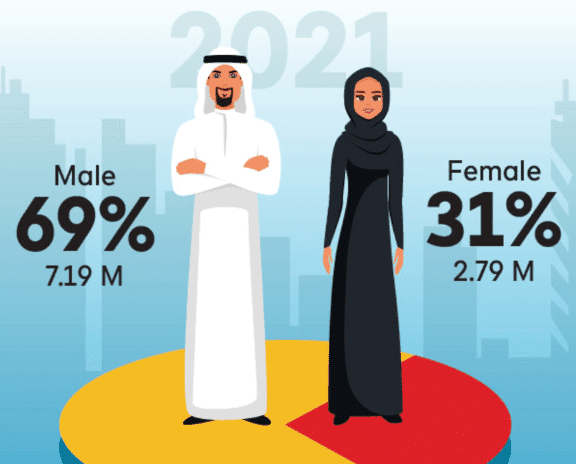 UAE Emirati Population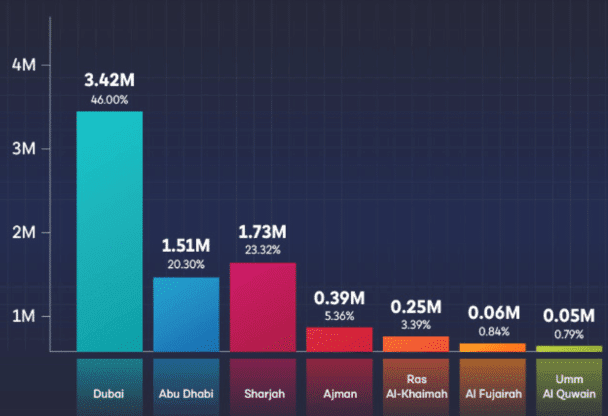 Initial Complaints:
For the initial complaints in Dubai and all over the UAE, the complainant has to step inside the Al Adheed Center. There are many in Dubai e.g. Al Muteena, Bur Dubai, Deira, Down Town, Jumeirah etc. Family complaints are registered over there not in the Family Courts complaint section, like before. The mediation section starts is mediation once the request is submitted to Al Adheed Center. Once all is done the complaint is sent to Family Courts where a case number is also generated.
When this process is completed then Advocates can also be brought into the picture. Previous to court, family advocates could be connected with clients only but their presence is not allowed in mediation or other discussions.
Importance of Family Lawyers:
Everything is well presented and documented in UAE. From a Cafe to a 5-star hotel, every entity needs a legal document to operate and live in UAE. This is the set pattern and the model made and implemented by Dubai and UAE Governments. Therefore no one can get up one day with an enthusiasm and finish the work without paying attention to requirements. Documents and obligations need to be fulfilled.
Family Cases are also comprised of quite personal stuff and emotions. Therefore, it can't be shared with anyone. When it comes to sharing with lawyers then, first of all, they must be by the Top Law Firms. The matter of secrecy, maintaining secrecy and confidentiality can be easily covered here. There is no more question of confidentiality, let's move ahead.
Emirati or Non-Emirati, non-one knows about the subject he or she is not into. Engineering is a new subject for doctors and physical education is a different subject for the mathematician. Therefore, Family Lawyers or also known as Marriage or Divorce Lawyers are hired.
When it comes to new living laws in UAE or new marriage laws in UAE and the divorce laws between two couples then Family Lawyers can help better than the person can help himself. All the technical guidelines and court proceedings can only be dealt with by an expert who has license, expertise and exposure to do.
Hiring an Advocate in UAE
Hiring an Advocate in UAE is a time-consuming process for a new person or for a stupid. Any kind of selection process and the hiring process has been made easier here by the Dubai and UAE government. If you are cheated by a service provider then a complaint can be submitted to DIWAN court or the concerned government department. So, it is a safe side here.
Family Lawyers in UAE, are the Emirati Advocates and Legal Consultants only. No one can appear in Court who is not. UAE National. UAE National has the right to open a Law Firm in UAE and the right to offer legal representations as an advocate or lawyer.
While hiring the family lawyers, the other things to be watched are determination, name, reputation, years of service, and details of winning cases. If a case between two non-Muslim couples can't be handled by a lawyer even Emirati Lawyer, then we must give priority to a suitable selection.
Last but not least if Family Lawyers or a Top Family Law Firm is required then Ask The Law – Al Shaiba Advocates and Legal Consultants by Advocate Mr Mohammad Ebrahim Hassan AL Shaiba, must be hired. A Top Law Firm and a team of splendid legal professionals in UAE. Law Firm and the advocate Mohamamd Al Shaiba, have proved their worth a large number of times. Ask The Law Al Shaiba Advocates and Legal Consultants is the top-class priority indeed for quick and result-oriented legal services.