Right Lawyer For Legal Problems
Right Lawyer For Legal Problems:
There are so many lawyers all around Dubai, how would you get to choose the right lawyer for your legal problem? Well, opting for the wrong lawyer can have devastating effects. Therefore, you must ensure to go through final research before settling for any lawyer in dubai. In this article, we will discuss the key points that will aid you with well-informed decision making. Right Lawyer for Legal Problems, means the right treatment for the legal CAOS. Legal Cases sometimes lead to a dangerous level where nothing can be recovered sometimes. Therefore the presence of Good Lawyers is required from the beginning.
Much before, you begin your search for a suitable lawyer, you must get educated. You need to have knowledge about your legal matter. You should learn the lingo; completely understand the legal issue to amicably resolve it with the aid of a lawyer. Furthermore, you should also know what a client will be responsible for. All this will save you time. thus, the money will be rightly invested for the appropriate lawyer. By doing so, you will be at ease in understanding your lawyers more simply and quickly. Therefore Legal Consultants are needed here. If the law expert is just a legal consultant then it can be fine at this level as legal services are not required. Second to this, if the court case is a perfect need somewhere then Advocates are needed.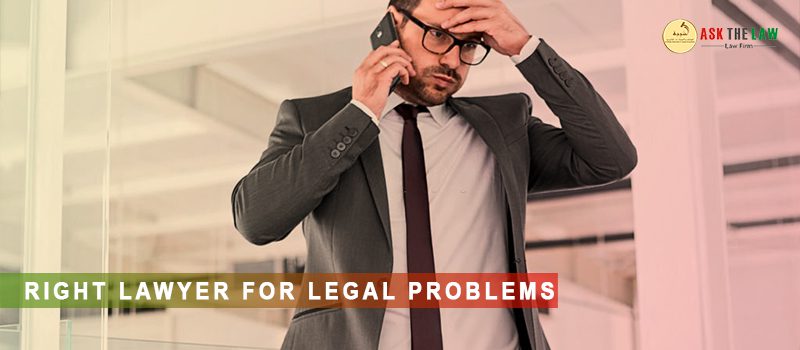 Dubai Lawyers and Legal Consultants:
We all know very well that Dubai Lawyers, or Dubai Legal Consultants, by the Dubai Law Firms are the best in UAE. They are hired by UAE's top companies as legal counsels and they have their own specialised and full-service law firms as well. In addition, if you have a simple legal matter, like preparing the will, you can contact a lawyer who will just prepare on your behalf. This will save a lot of your efforts and energy. Alongside, it will also be translated into ending up saving you a lot of your finances.
All the lawyers are specialized in their area of expertise. If you have moved to Dubai for work, hiring a criminal lawyer won't help you. Here you need an immigration lawyer to fulfil the purposefully. Additionally, you need to ensure that the lawyer you are getting on board completely understands your scenario and has expertise in a similar domain. Moreover, his experience of years will greatly assist in dealing with legal issues.
Difference: Huge Indeed
It is incredibly vital to opt for the right lawyer to make a huge difference. You must know that there are several lawyers in Dubai who offer free consultation. They offer the service in person or over the phone, therefore, utilize this opportunity and shop around for a suitable lawyer in the marketspace. This will provide you with the ultimate legal cost involved along with what resources are needed. But we think the best consultations are not free consultations. One must not hesitate to get multiple opinions and feedback from various lawyers. This assists you in making shrewd decisions about the best fit for your specifications.