Professional Networking Lawyers
Professional Networking
Professional Networking plays a significant role in all professions. It helps to meet new people and to find opportunities that can have a lasting impact on a lawyer's career. Lawyers in Dubai have the experience and the expertise to handle all types of complex cases, however, networking is an effective way to build professional relationships which can prove mutually beneficial. The Emirati Lawyers are very popular for their professional networking, but it does not mean they can offer bribery, or they can influence any legal decision. The best part is that being local, they are connected with every Emirate, Organization, and professional environment which makes them enough confident and professionally linked with everyone.
Networking & Existing Clients
Networking does not only mean meeting people, rather it involves building lasting professional relationships. It is critical for lawyers to build meaningful relationships with existing clients and attract potential clients through these relationships. It is essential to not expect too much from a professional relationship and not have any ulterior motives as these can lead to ruined relationships. Strong bonding and networking is the key to having previous clients forever. Even there is no need for follow up, and the old clients will never leave your organization ever. Succesful Law Companies and the Lawyers or even legal consultants always do their best to be connected with existing clients.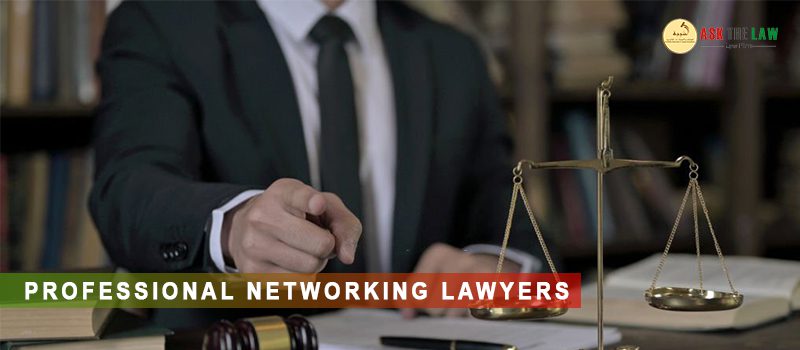 Key Benefits:
Networking not only helps in building meaningful professional relationships but also plays a key role in enhancing other skills as well. Communication skills can be improved through interactions meant for networking. Continuous interactions with other legal professionals and potential clients help polish communication skills and remove any shortcomings. Similarly, networking also helps to increase confidence.
Interactions with people of similar professions increases knowledge and helps in gathering up to date information which boosts morale and confidence which can go a long way in the professional career of a lawyer. A well-known advantage of networking is access to new opportunities. Having a good reputation within the professional world is critical for word of mouth marketing which is much more effective than any other form of marketing or advertising.
Networking is essential to understand competition and to know the latest ways of doing business. Apart from just knowing the latest skills and techniques, it also helps in identifying the methods which are most efficient and effective, and helps to discard those which are obsolete and less efficient.
Like all other fields, the legal industry is continuously changing and adapting to new technologies and procedures. Therefore, it is essential for advocates in dubai to know about the latest approaches and techniques being used by lawyers all over the world so that they can make their practice more productive and up to date as per the latest standards.
It extends the revenues and expected revenues. It extends the meaningful purpose of the life. It allows one person to get established the Law Company for the large number of years. It generates the intangible assest and value of the company.