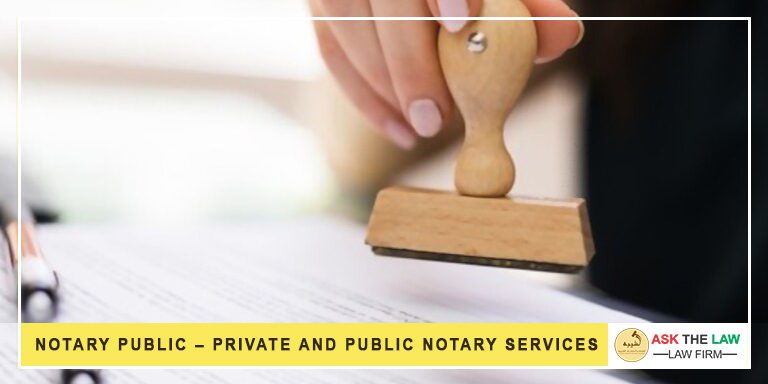 Notary Public – Private and Public Notary Services
Private Notary services in the United Arab Emirates are the services to verify the legal documents. It is the very first process indeed. It needs to be done before the process of attestation. Therefore, it is understood that documents have to be notarized first and then taken further for any legal attestation. Private Notary services in the United Arab Emirates means the services which are being offered privately by private service providers like Law Firms. There are several Law Firms in UAE e.g. Law Firms in Dubai, Law Firms in Sharjah, Law Firms in Ajman, Law Firms in RAK, and Law Firms in Abu Dhabi etc, who are offering the private notary services. For example, the procedure of Notarization in Dubai is managed this way.
Documents are notarized in Dubai, but the attendance of the lawyer is needed. This lawyer plays the role of the Third Party and the other parties are two standard main parties. It is the duty of the lawyer to check that documents to be notarized are free from any kind of criminal activity, forgery, or fraud. There is nothing hidden between the two major parties of the contract and signees don't have any intention of using the documents for any type of illegal activity or actions.

A private notary entertains the people for the notarization of MOA, Shares Declarations, Selling and Buying Agreements, Power of Attorneys, Cancellation of Power of Attorney, Legal Notices, Legal Documents, etc.

Public Notary is the first type of notarization service but the process is the same. A private Notary has to follow the same procedures of notarization but with a Third Party. Private Notary is also adopting modern technology this way. For example, now that online notarization has been allowed, therefore the lawyer of a person can also notarize the POA online. There is no longer a need to go to a Public Notary.
The process of Notarization is necessary because it is needed that the documents have to be notarized so documents could be identified as completely genuine. It makes sure that documents are not going to be used for any fraud activity on behalf of signees. Notary Public services have to be confident that they are not going to verify any illegal or forged document. This applies on both, the Private Notary and the Public Notary services. As we stated above that Lawyer is the third party and the witness in Private Notary Public services. Therefore, the Lawyers have to be much more careful in this regard.