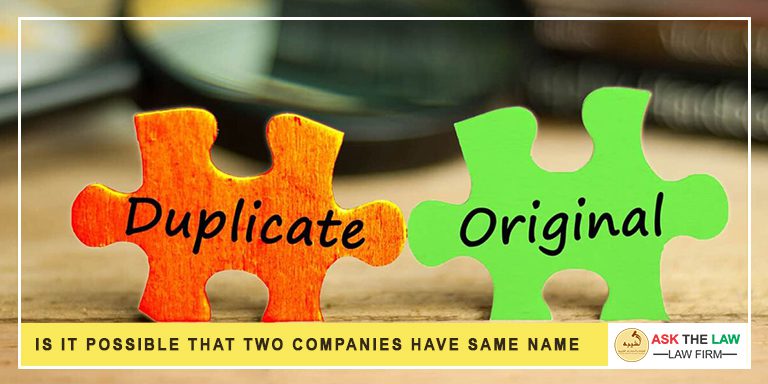 Is it Possible that Two Companies Have Same Name
The easy answer is, no it is not possible. Just one company can operate under one name and others cannot. If the other company operates then it means he is found breaching the law of intellectual property and patents. Therefore, when a businessman has to invest by opening a new company then, he has to first check with the economic department. First of all, duplication or overlapping is not allowed in countries like UAE, USA, UK etc where the patent rights are fully secured, preserved and implemented. But if it is done even here or in any other less developed country in the world then, this will be a civil case against the accused party.
It's a truth that name, logo and slogans always play a vital role in the success of a business and in the success of entrepreneurs. Therefore, this is advised to choose the name, logo and slogans of the businesses very carefully. For example, the name of Coco-Cola, or Ferrari, or Levis, do not need any marketing for the purpose of getting recognition or people's attention. They just need marketing to let people know about the new arrival, sales, benefits, jobs, careers, and promotions. Therefore, such companies do not bother about marketing.
They only bother about the intangible assets or the intangible values. Such companies also do not want to create others to use their names, therefore law protects their name and value. Apart from this, no one can also open a business with a name which reflects ab already existing business. For Example, the Levis brand is used to open a new business as Leviis, then it can also be challenged by the original company if it is found that it is distracting and a kind of illusion to customers. Identical names, or logos or slogans always give a birth to disputes and legal battles. These words legal battles, might not create a big shocking effect here for the readers, but it can be judged when a dispute like this is created between two market leaders. Therefore, it is not allowed to use the name of other companies or brands. Slogans and Logos can't be used. Even similar names and logos can be challenged in court.
Let's say if you are in Dubai then please check with Dubai Land Department first. They will guide you about the procedure, and process of opening the company, with the services of opening a company, intellectual property rights, patent rights and other necessary information. Apart from that, there are many international platforms like USPTO, where the business names and brand details can be checked.
Once the new names are found then a person/owner has to register his company name, slogans and logs in the economic department or the relevant department. For Example, in Dubai, it all will be managed in Dubai Economic Department, also called as (DED). If a company is found breaching the rules or laws then the real owner can write an Email or letter to that fraud company. A legal Notice can be served. Economic Department can be approached and Civil Case can be filled for the damages recovery and for the compensation.
Very strong legal cases are filled for such breach of law. As we stated above that for a small company it might not be found quite valuable, but as a battle between two market leaders or big companies, it might be a lawsuit of millions or billions and billions.
Al Shaiba Advocates and Legal Consultants – Ask The Law, the Top Emirati Law Firm in Dubai. Advocate Mr Mohamamd Ebrahim Hassan Al Shaiba, the top Emriati Lawyer and Legal Consultant. Law Firm is being operated in the region for over 20 years and Mr Mohamamd Al Shaiba is also working for more than 20 years. Just such Law Firms and Advocates can help out the businesses in any kind of small to complicated cases or court disputes.