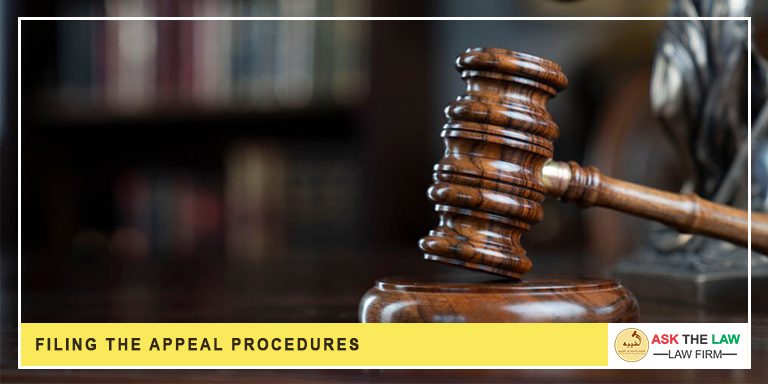 Filing The Appeal Procedures
An appeal can be filled in Appeal Court when a verdict is issued from the 1st Court. 1st Court verdict can be appealed if and only it is possible to file the appeal. It means there must be a minimum claim amount, to file the appeal in the appeal court. For example 50, 000 AED is the minimum claim amount for the Appeal Court. Anyhow when possible the court awards a chance to file the appeal in Appeal Court or also called the Appeal Court. The Cases at the appeal court can also be reversed to First Court again if the judge at the appeal court is not satisfied with the proceedings in the first court. 30 Days are provided to file the appeal in Appeal Court, for any kind of Appeal case. Article 158 of Federal Law allows the cases to be taken to Appeal Court if:
That is possible as per Law.
Judgement is issued from the first court and time has not been passed for filing the appeal.
If the case has not been rejected by the first court fully if that is a Criminal Case. But prosecution can file an appeal.
Appeal Court Fee and Insurance Fee need to be paid in the appeal court. It does not apply in Rental Court Appeal Case. Half the Amount needs to be kept there as security in Rental Appeal Cases.
The public Prosecution and the accused both can file an appeal in Criminal Cases. The appeal is filled as per Article 162 in Civil Law.
The insurance Fee is also paid to the treasury.
For Cassation Court, there are 15 Days. The next appeal to the Appeal Court verdict is filed within 15 Days.
Appeal Court Verdicts can also be appealed in the 3rd Court which is also called Cassation Court. By using Law Articles, if the judgement is found null, incomplete or not properly checked, the judge can also order to send back the judgement or reject the case, if sufficient proof and evidence are not found.
Final Judgments for Felony to Criminal Cases with small issues, in Appeal Court, can also be filled here like other Cases and Court Cases. Cases can also be rejected on a Void Ab Initio basis. However, except for Criminal Cases, Appeals can also be filled for any kind of case by using and applying the applied requirements.
Lawyers
There are no Appeal Lawyers or Advocates. Lawyers or Lawyers have to be masters of all the Courts, and the most experienced Emirati Advocates are the experts in multiple law branches together. These Lawyers and Legal Consultants are for all the Courts and for any kind of Court Case. Therefore do not get into the trap, there are separate lawyers for the Appeal Courts.