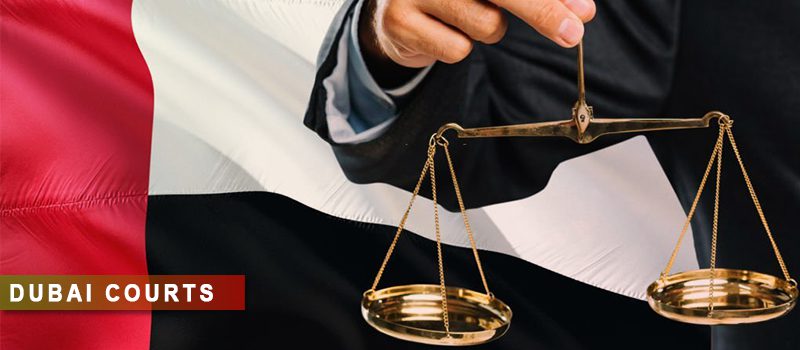 Dubai Courts
Dubai Courts have an independent status with proper infrastructure, management, and system. There are three courts under the name of Dubai Courts. These courts are given the names 1st Court or Court of the first instance, Appeal Court or Court of Appeal, 3rd Court or Court of Cassation. Dubai Courts are fully digital where hearings are conducted online, cases are registered online, memos are submitted online and almost all the operations are managed online. It makes the Dubai Courts as most accessible and the Best.
Even the initial complaint registration system is also online and the mediation sessions are also online. Dubai Courts meet with the world's most modern courts structure this way. UAE Federal Constitution, permits every Emirate in UAE, to have its own judicial authority. Therefore, every Emirate has its own judicial authority. But the UAE Law is federal and almost equally applicable. Dubai Courts are one of the best courts in UAE, one of the best Courts in the Middle East, and one of the best courts in the world. Before proceeding next to reading this article, please keep in mind UAE Law is federal.
1st Court is the very first court where the cases are initially registered. For Labour and Employment Cases, there is a court fee of 5%, once the claim amount crosses 100,000 AED. For Civil Courts, the court fee is 6% of the claim or a maximum of 40,000 AED. For Family Cases, and Criminal Cases, the court fee must be checked with Dubai Courts or Private Lawyers first. Settlement can also be done or can be arranged here by Dubai Courts, and submitted to the court when mutually agreed by both parties. Amicable Settlement services are for Real Estate Cases, Civil or Commercial Cases, and many more. Dubai Court's initial meeting session program is also based on an amicable settlement, where both parties are granted the opportunity to reconcile with each other.
The 2nd court of litigation is also called as Appeal Court. The cases which are appealed in 1st court, are sent to the appeal court when the appeal is filed by either party or both parties. The appeal must be filed within 30 days, as per the defined rules and time period granted. Settlements can also be arranged here.
The 3rd Court also known as Cassation Court, is the top body where cases appealed in the 2nd court are referred. This court contains One President (at least) and 5 judges. It is the last court and no appeal can be filed here, further. The judges here are the best in the Dubai judiciary as well as the overall UAE judiciary. 
Family Guidance Dubai Court or Family Courts Dubai
Family Guidance Dubai Court or Family Courts Dubai is a family law service offered by Dubai Courts. This service is for reconciliation, mediation, marriage, divorce, alimony, child custody, assets distribution management, and more. It is also known as the Personal Status Court in Dubai. It deals with cases only domestic in nature. It is a separate court in Al Garhoud area of Dubai.
Al Adheed Dubai Court
Al Adheed Dubai Court. Learn about the functions and operations of Al Adhered. Learn here how to lodge the complaint in Al Adheed Centers.
Dubai Court Website
Please Visit Here: Dubai Court Website
Dubai Labour Court
Let's learn about Dubai Labour Court. "Dubai Labour Court Service" allows complainants to lodge Labour and Employment complaints. For Main Land Companies, the initial complaint is lodged in MOHRE, and then MOHRE issues a court referral letter if the complaint is not closed or resolved amicably. For Free Zone, first Free Zone authorities have to be contacted, followed by contacting MOHRE for case referral.