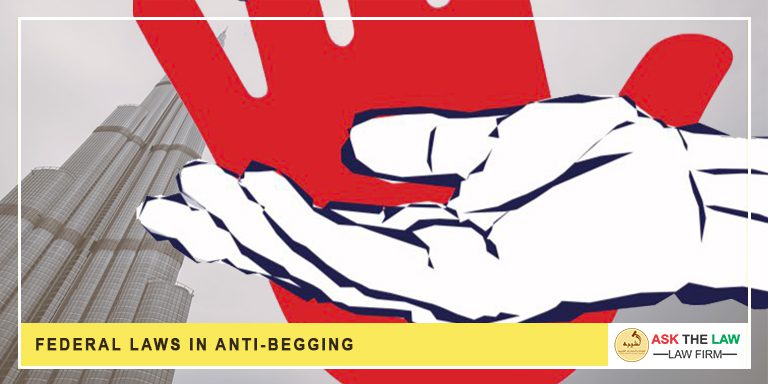 Federal Laws in Anti-Begging
UAE Government has implemented amazing laws which cover each and every segment of society and the economy. These laws are for Labour and Employment disputes, Civil or Commercial matters, Import, Export, Trade Laws, Taxation Laws, Bankruptcy, Banking Laws, Investments, Company Formations, and Money Laundering Laws, and in-short covering every aspect of a society or economy. Similarly, the Laws for Anti-Begging are also drafted and implemented by UAE Government. These laws stop beginning, stop beggars and punish the responsible elements. You can check with a good Lawyer or a Law Firm in the United Arab Emirates.
According to Federal Law, which is Federal Law #9, of 2018 on Anti-Begging, it is clearly described, that a person who is caught begging, anywhere in the United Arab Emirates, will be arrested, kept in imprisonment for three months and will also be fined AED 5000. There are few groups working here on a very organized level. They bring the beggars from other countries and, force them for begging. It is also found that several people come here intentionally for begging. Therefore it is decided by UAE Government that anyone, doing begging, hiring beggars, performing begging, supporting begging, or involved in this, will be punished. Those who are working on professional levels will have to face jail terms of not less than 6 Months and a fine which is at least AED 100000.
Begging is not liked in Islam. Begging is not like in educated and civilized societies. Therefore there is no space or permission for such activity in any religion or society. We believe strict laws must be made to monitor societies and keep them safe from social evils. The Anti-Begging law is made to secure the Islamic Values, secure the UAE's reputation, and stop begging all over the world which is a social evil. There is another good act by the Public Prosecution where, people who can be taught some social work, are enrolled in social work training. So, they will participate in some healthy activities by quitting begging. If a person wants to inform the police or other departments then he can contact, give them a call and notify them about the beggars, begging and a group of people, who are organizing begging. You may find the contact details here: Find Here.