Document Management Systems
Law Firms have to deal with various court documents, professional contracts, the power of attorneys, legal memorandums and documents on a daily basis. Usually, these contracts and other important legal documents are to be stored safely even though submitted online. Therefore legal software, legal document management systems and applications are required because it involves a lot of tedious tasks that have to be carried out very carefully. Law Firms have to employ their best resources for document management, which makes the process all the more expensive. Document management is a critical element for law firms in dubai. It is very important that the firms make this process as efficient as possible so that they can reduce costs as well as the risks involved with meeting deadlines and ensuring compliance.
Law Firms can't afford mismanagement or mishandling because the legal documents are having worth which is beyond to mention in numeric figures. Both Modern and Manual document management is required at Law Firm businesses indeed. The Law Firms in Dubai are the best legal offices in UAE, in this regard. These Law Firms are using modern technology and modern manual keeping approaches.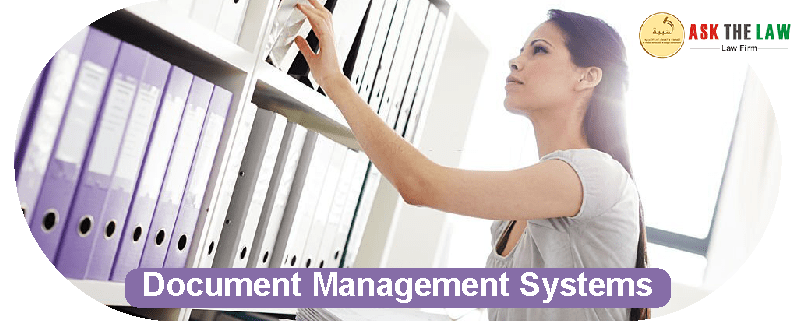 Manual Document Management:
Therefore, it is essential that proper guidelines and procedures are developed for document management, making the process more efficient. The process usually starts with file coding and labelling. All the documents and files are sorted and stored in separate folders which are pre-tagged according to the needs of the firm. Manual document management or document control is all done manually. Therefore the files, labelling, menus, checklists, details, furniture is required. The titles of the folders should be as specific as possible, making it easier to identify the folders at a single glance. The folders should be arranged in a logical way and the tags should be colour coded as per their priorities. The main steps involved in organising documents are as follows:
Preparing file guides which include the details of the types of files and the types of documents to be included in the files as per the requirements of the firm.
Preparing easily identifiable labels for the folders and files so that it is easy to identify the files at a single glance without having to take out all the files.
In case the labels are coded, or the files are colour coded as per their importance or priorities, it is critical that the codes are properly recorded and readily available.
All files should be cross referenced properly so that it becomes easier to locate referenced files and documents.
Preparing a detailed file plan and organising all the files accordingly.
Making the file plan readily available for all stakeholders.
Modern Document Management:
Modern Document Management Systems are based on modern technology. These are based on technological apllications. These are desktop and cloud based and cal also be operated from the mobile phones or other gadgets. Nowadays few storage softwares, customer relationship managemmnt softwares, and cloud applications are available. Cloud sharing even remove the dependency on computer servers, computers and other IT devices. Keep few thigns in mind while buying such systems:
It must e from reliable source.
Buy the licnese and end source. You should not be dependent on others.
Prefer to buy life time or with paid subscriptions.
CRMs and Documented Systems, must be under your authrization and licnese.
It must be under the name of buyer/Law Firm.