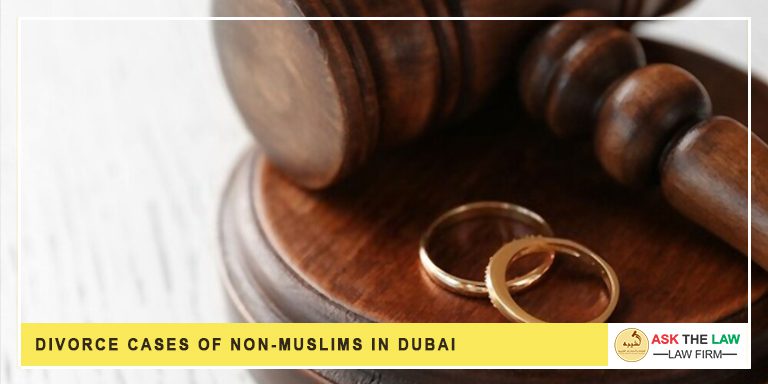 Divorce Cases of Non-Muslims in Dubai
Islamic Sharia Law
The laws in the UAE are based on Islamic Sharia Law and all the UAE Citizens residing in the UAE are bound to follow these laws and regulations because they are also Muslims and Sharia Law applies to Muslims. These laws also include the laws related to "Divorce" as well. Divorce comes under "Personal Status Law". However, there are a lot of people residing in Dubai who are foreign nationals. They are residents of countries that have different laws and regulations regarding divorce, which makes it difficult for these foreign nationals to accept the conditions imposed according to the Local Laws in the United Arab Emirates. Therefore Islamic Sharia Law does not apply to these citizens. As per the amendments, now Non-Muslims can choose the law of their country or the law of the region where they got married. Keeping in view the possible difficulties for foreign nationals, foreign nationals are allowed to apply foreign law of the country where the marriage took place. However, "Foreign Law" is only applicable in UAE courts following the provisions stipulated in the UAE laws.
The Process of Divorce For Non-Muslims and Muslims
The process of divorce for Non-Muslim foreign nationals is initiated on mutual or contested terms. In case both parties agree on the terms of separation, the divorce is settled on mutual terms. In this case, either the husband or the wife contacts the family guidance committee, which is a part of the UAE courts. The committee begins the conciliation process and eventually both the parties sign a separation agreement, which defines the points of separation.
In the case of non-mutual or contested cases, the party filing for divorce has to provide the necessary evidence to prove harm. The court passes the verdict of either granting or not granting the divorce, after considering the evidence and testimony of witnesses.
Lawyers in Dubai, specialised in Family Law
Lawyers in Dubai, who specialize in family law, understand all the terms and conditions for divorce cases of foreign nationals and can ensure that the process is handled efficiently. These lawyers not only understand the local laws but are also well versed with foreign laws and are therefore well equipped to guide their clients on the best possible strategies for handling a divorce case. The lawyers have clients of different nationalities and understand their concerns and fears. These lawyers can ensure that the case is handled as per the needs and priorities of the client. These Lawyers are helping Muslim and Non-Muslim couples as Top Family Lawyers in different family court case segments like Divorce filing, Child Custody, Alimony, etc. These are the Best Family Advocates in Abu Dhabi, Best Family Advocates in Sharjah, Best Family Advocates in RAK, etc.