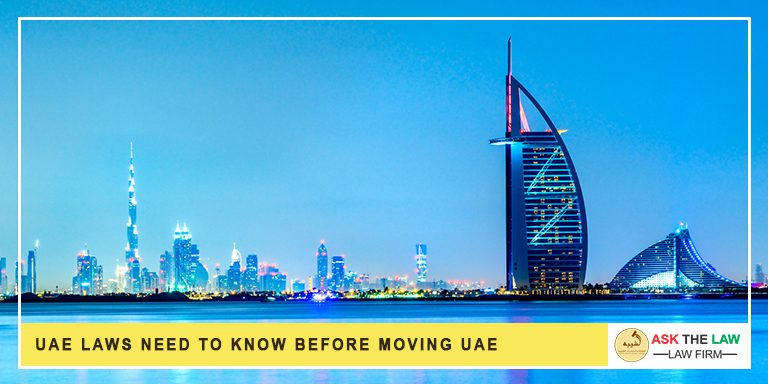 UAE Laws Need To Know Before Moving UAE
Ignorance has no excuse in Law. When the expats move to other countries then they have to understand the Law first. The fundamental legal knowledge of the place you want to live or want to move, ought to be understood. It will help you to learn about your rights as well as how to live in a new place without messing up with the Law. Well, if you are moving to/relocating to UAE, due to your job, business or as a favourite destination place to live then you need to follow UAE Rules. The knowledge before "Moving to UAE", before "Moving to Dubai", or before "Living in Dubai or Living in UAE", is always helpful.
Touching, Indecent Touching, Kissing, unreasonable actions, and intimate moments are not allowed in Dubai and all other Emirates. You can walk with someone, you can eat, move outside etc, you can hold your hands but keep in mind that intimate moments or kissing are not allowed. While living here or moving outside you should not be challenging the local customs.
Showing fingers to others, showing indecent gestures, and wrong actions are not allowed. You can't stare at others with reason or without reason. You can't enforce, pressurize or influence anyone. Especially the Visitors must read the guidelines and, visitor book. There is no excuse for both, residents and visitors. For example, finger gestures must be or can be considered decent in your country, but it is fully permitted in UAE.
Please avoid taking pictures of the places where it is permitted. Security places, army areas, family residences, royal residences, the personal capacity of anyone, using drones etc. Drones can't be used in restricted areas, there can be a serious punishment for this. Even if anyone wants to fly the drones then he needs to get a license.
There must be no debate or conversation on racism, religion, sex, caste, creed, tribe etc. There must be no discrimination or intolerance because of personal choices or personal bad experiences. Therefore any kind of intolerance and discrimination is not accepted here.
Religion is the most sensitive matter for everyone in the world. It means people are very much emotional about religion. Therefore it is not allowed to set up any religious activity in UAE, except or unless permission is taken from the Government. Apart from this any religious comment, verbally or on social media can also put the person living UAE, in serious trouble. People are not allowed to disrespect any religion, except only to respect and honour religion and its followers.
Now Alcohol consumption and living have been allowed but this is still not for the Muslims. The new laws allow Non-Muslims to practice this only. Muslims Visitors must check with the Lawyers first, before getting into any situation like this.
No Pictures of Women or Families can be taken without their permission. You cannot take the picture of anyone without his permission.
Last but not least, clothing must be decent and as per the rules described and made by UAE Government.
It is noticed many times that the residents are well aware of the facts but the visitors are not. Though few relaxations have always been available for the Visitors. But, we recommend that Visors must grab the knowledge for safety and precautions first. Online blogs, books and meeting with lawyers, is the few sources for this.