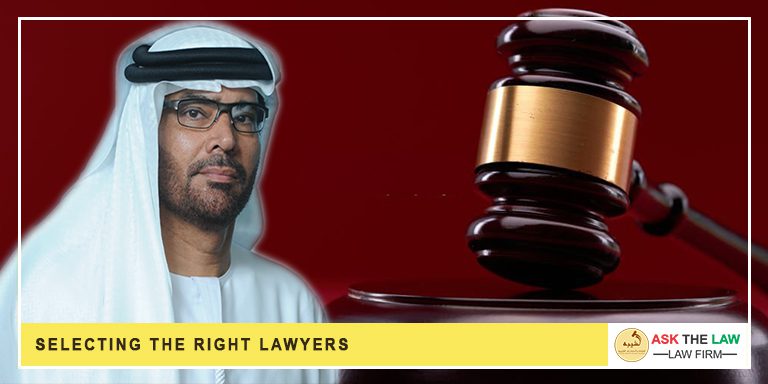 Selecting the Right Lawyers
Few Qualities of Good Lawyers
Lawyers must need to have professional degrees more than one. It's good if they have a few more degrees other than a professional law degree.
Lawyers must be having good communication skills. Lawyers in UAE must be experts in widely spoken languages in UAE like Arabic, English, Hindi/Urdu, Persian, etc. For other languages like Chinses, French etc., a team can also be hired. A team of lawyers who are experts in this.
The judgement of the Advocates/Lawyers must be very accurate. It is also called the assessment. It means when a case comes to them, then they must know where the client stands and what can be the most appropriate for the client.
Book Reading must be the habit of a good lawyer. He must be habitual in reading newspapers and books.
Research-based life. A lawyer has to do research to find new laws, amended laws as well as about universal laws, so therefore he could be a in a good position to answer his client/clients.
A lawyer has to be patient. Clients will never be satisfied ever. Therefore he has to be patient in this field. He can't lose his temperament quickly.
Selecting the Right Lawyers
Selecting an accurate and appropriate lawyer is a time-consuming task but it is worth it at the end of the day. Let us begin by listing down the potential candidates who can assist you with the legal matter. You can consult attorneys and legal consultants. Paralegals and others are the support sources, they are not the advocates or authorized to give you legal counselling. You can get information regarding lawyers on websites, online resources, bar associations, directories, and many other useful sources. Attain the information concerning the lawyers to get the maximum data about the best and most reputable lawyers within your area. Word of mouth still works as a good source to hire quality lawyers in UAE. Lawyers in Dubai and Lawyers in Abu Dhabi, are mostly because they are from well-established Law Firms in Dubai and Abu Dhabi, respectively. They are considered the best Law Firms because they are serving the top business companies in UAE. Therefore lawyers, legal consultants, and even paralegals get a good chance to be good legal attorneys and legal experts.
Secondly, you need to list down the candidates who you think are suitable for your legal issue. Here word of mouth and referrals plays a vital role. You can ask your family as well as your friends or acquaintances to grab the information from them. Accordingly, plan a meeting with them in person after shortlisting is done. Here one thing is very important, determining the nature of the legal problem is very crucial to achieving desirable results.  If you are intending to solve a business matter then you can't place your trust in a criminal lawyer. Similarly, if you want to file for bankruptcy, then you shouldn't contact a family lawyer.  Therefore, identify the core area of expertise that you may require.
Word of mouth and referrals from kith and kin are quite important in the search for a suitable lawyer. They are mostly honest and share their experience without any vested interest in suggesting you the lawyer.  You can also place your reliance on your family member, or friend for the legal case if you have any lawyer within your friends or family circle.  If you have confidence in his competency then it's ideal for you to opt for them as it is great for communication. In today's advanced world, the internet is very handy. Anyone can inquire about the options available online through various search engines.  Multiple websites offer you a list of lawyers in Dubai who can offer you legal representations. On the contrary, lawyers can also recommend to you the other appropriate lawyers in a locality who can aid you effectively. Therefore, it can be said that legal circles are a handful and everyone knows each other. They also know the other's experience, expertise, reputation, and much more. The point to consider is that many lawyers take up the referral fees for their suggestions. This will greatly impact the decision-making.