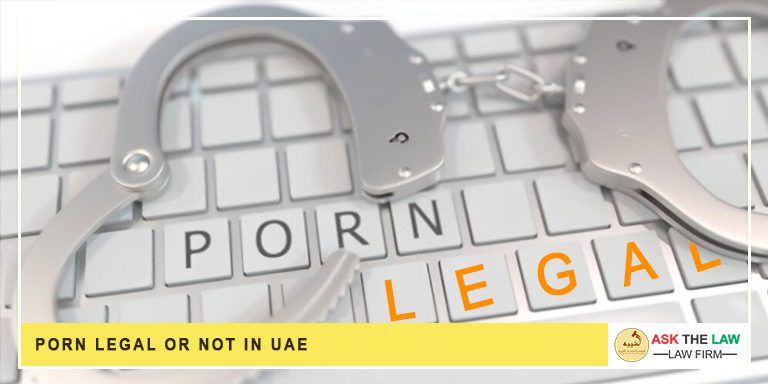 Pornography is declared and considered as illegal in UAE by Law. Therefore, any kind of trade or business activity in UAE related to Pornography or Porn is considered a punishable offence. Apart from that, any kind of sexual content is not allowed for sharing, publishing online, watching online etc. Internet, websites, and IP Addresses are fully monitored in UAE, therefore it is not like people can easily breach the rules. UAE IT and Cyber Control departments even have strong checks on the IP Addresses as well. All porn websites are banned in the UAE, and there is no tolerance in this regard from the government side. Even private VPNs are also not allowed. Porn content can't be kept on mobile phones, flash drives or computers. If anyone is caught sharing this content then he can be arrested and punished.
Watching Porn is also not allowed and is considered as illegal. We know very well that there is no excuse for ignorance. Therefore, while visiting UAE or living in UAE, one has to be careful that he or she is not breaching the rules. Public Prosecution Dubai has given a sentence of one month and a fine to several people before, who were possessing the Porn DVDs. The judgement came out/given by the prosecutor where this claim was rejected that the keeper was not aware of the Law. Law says that when you are entering a new country then this is your right to get the details about the law first. This ignorance might cause small punishment but the law will not show any tolerance if a person is found guilty. Muslims or Non-Muslims both are treated equally in this regard.
Child Pornography and Others
People, or groups of people or companies who are involved in, child pornography will be punished with 10 Years in Jail (its minimum, can be more as well). The punishment for Child Pornography is very strict and with no tolerance. Fine can also be 1 Million AED or more. It can be both together as well. Apart from pornography, if a child is tortured or tortured to death, then a very serious punishment is decided by UAE Government. As we stated above that as per UAE Law Article 70, the convict can't claim that he was not, she was not, or they were not aware of the Law. Child Pornography or torture can put the convicts in serious trouble. UAE Law protects the children in the United Arab Emirates, whether these are Emirati children or others. Any kind of nude video, torture video or any other stuff, if spread, published or shared, then will be considered a a punishable offence and under Criminal Law.
Children torture can fine up to 50, 000 AED. If children are not registered(birth), then a fine minimum of 5000 AED can be a punishment. Many Middle Eastern Countries are almost implementing the same Law. But recent amendments due to considering digital tools, have brought a revolution where children are more protected than before.