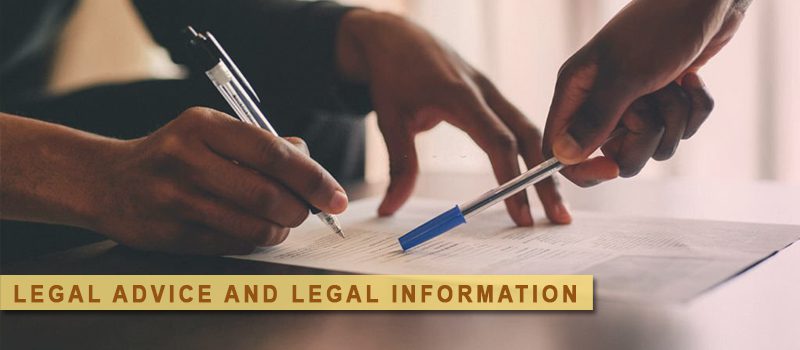 Legal Advice and Legal Information
Legal Information is only the legal details by anyone. No one can take legal action based on that. An online legal blog, Bar Journal can provide you with legal information even from the lawyers but when a person has to take legal action then he or she should consult the licensed lawyers first. Based on the assurance provided by the Advocates and Legal Consultants, they should take legal action. If the legal action is not taken based on the advice of the lawyers then bloggers or journal writers will not be held accountable. Therefore, there has always been a difference between legal advice and legal information. Legal Information should not be considered legal advice.
Legal Advice may often be confused with a legal clue or legal information. However, there is a stark difference between the two concepts. Only those legal professionals who have studied the law passed the bar exam, and are practising law in their respective areas of specialisation are authorised to give legal advice. On the other hand, people do not need to fulfil the above criteria to qualify for sharing their legal knowledge. However, this legal information is gained via the internet, personal interest in the field of law, or by having a close association or interaction with a law solicitor. Hence, the possession of any valuable knowledge of the law does not mean that he holds the expertise to give legal consultation to people facing legally complicated scenarios. Well-acclaimed legal consultants and law solicitors who have been registered in the concerned law regulatory bodies and hold a valid license to offer and promote their legal services can give expert advice or guidance to the clients seeking it. 
Legal Advice is the Legal Counselling Indeed. Legal Advice is the counselling or guidance provided by authorised law experts to people who face legal impediments and are incapable of understanding the nature of the legal issue, and its legal path towards resolution. Legal advice can be in the form of a draft, given verbally by the legal expert. The legal solicitor highlights the client's entitlements by law and also briefs him about his legal obligations regarding the legal issue at hand.
Expert Opinion by a law specialist is a result of the precise scanning of the jurisdictions of law in a particular case scenario. It is the complete opposite of the casual legal knowledge displayed by people having no expertise, or authorisation of practice in the field of law. Every Tom, Dick, and Harry cannot flaunt their legal exposure on an accidental or inexperienced limited knowledge base, or experience. Moreover, they lack the required legal credibility, professional skills, and legal aptitude to understand and implement various injunctions of the law in finding tailor-made solutions to the client's exclusive problems.
Every Case situation, background, motives, triggers, characters, claims and aspirations are unique in nature. They may fall in a specific area of law application but each one of them requires a unique legal solution. Hence, only a law professional who knows the ins and outs of the legal system, its injunctions and jurisdictions can give a tailor-made expert opinion on legal matters faced by clients.
In addition to this, providing legal consultation, or guidance is in itself a huge professional responsibility. The consequences of such advice direct the path of the future life of the client. If given by an inexpert, huge losses, undesirable circumstances and serious legal obstacles are sure to follow. However, if a professionally trained and legally permitted law expert gives his valuable input with the intention to bring ease and peace to a person's state of legal distress, the results are fruitful and in the client's best interests. On the contrary, casual legal guides who are neither qualified nor licensed to give legal consultation create a chaotic situation for the client and are also eligible for strict punishments by law for violating the law.