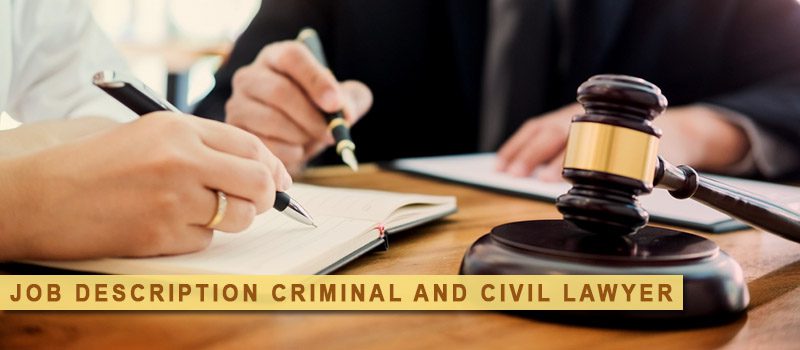 Job Description Criminal and Civil Lawyer
As per the name, the meaning of Civil Lawyers is to file the Civil Lawsuits. Civil Lawsuits are kinds of business disputes, commercial disputes, financial disputes, profits not paid, breach of business contracts or even a few real estate cases which can only be filed in Civil Courts, etc. These cases are taken by experts in civil law called Civil Lawyers. Though, it is seen several times that Civil Lawyers are also taking and dealing with the Criminal Law. But as per the Law, we always have to differentiate the Civil Law. Civil Cases can be filled directly or they can also be opened after the judgment from Criminal Court. Civil Cases can also be requested to be put on hold unless the prosecution or criminal court gives the verdict. These are the things for the Lawyers who can advise you better in this regard. But this is the key difference between a Civil and Criminal Lawyer and the job description.
Criminal Law and Criminal Lawyers
Criminal Law has to be dealt by the Criminal Lawyers. These lawyers must be experts in police complaints, CID complaints, sudden arrestments, public prosecution, court cases etc. If the lawyer is not an expert in such disputes then he can be a good lawyer with a different speciality but he can't be an expert advocate for Criminal matters and cases. This is what makes a lawyer expert in Criminal Law UAE and lets him be called a Criminal Law Advocate and Legal Consultant. Nowadays few things have been put outside the jurisdiction of Criminal Law. For example, the cheque bounced cases. Now there will be no criminal cases on the bounced cheques. It must be checked with the Criminal Lawyers and Legal Consultants.
No Confusion
There must be no confusion in this regard. The lawyer can be either expert in Civil Law or Criminal Law. A lawyer can also be the best legal support for civil and criminal cases together. It is up to the business or person who is looking for, the lawyer. Book a couple of consultations and find out the real facts.