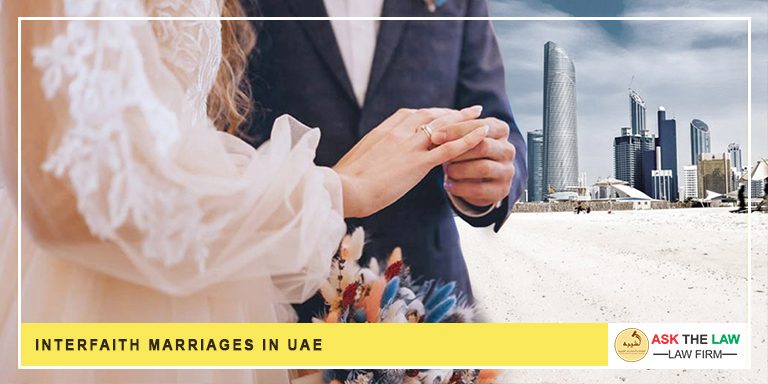 Interfaith Marriages in UAE
People from diverse backgrounds settled in UAE who belong to different religions, ethnicities, races, creeds, and castes. As the UAE continues to expand, more people come to enjoy stable living conditions and take advantage of endless possibilities. This has resulted in people from various ethnicities and religions marrying each other. Therefore, interfaith marriages are quite a common practice. The UAE allows interfaith marriages and has also developed laws concerning it. people make UAE their home to a thriving multicultural culture. Interfaith marriages are also called mixed marriages. If we go into details it is a union of two different people who belong to varied religions. They are often described as Religious Unions or Civil Unions. Different Religions have different stances on mixed marriages. Some forbid the union while others have some degree of tolerance and acceptance of it.
In UAE a Muslim man is allowed to marry a non-Muslim lady as long as she belongs to the book religion. This is followed as per Islamic law. It implies faiths like Christianity and Judaism. On the other hand, if the female is not in the book then the conversion is compulsory to legalize the marriage. Whereas a non-Muslim man is not permitted to marry a Muslim lady till the time she covers the Islamic faith. Under the law, non-Muslim weddings in UAE are recognized that take place at places of worship including Hindu temples. Sikh gurdwaras etc. in addition, no Muslim interfaith marriages take place at the consulates or the embassy of the bride or groom.
Personal Status Court Dubai is responsible for performing marriages between two people who are Muslims by religion. The body takes the responsibility to summon the wedding.

The requirement of interfaith marriage is the following which is discussed in detail: any of the partners should have a UAE residency or UAE visa. Secondly, the passports and their copies are needed for the marriage to get legal. Besides, the bride's father or the guardian must accompany the couple to the Marriage Section of the Dubai Court.  Identification documents are also required by the relevant authorities to complete the process.

There is also a need for the documents for death and divorce, in case Any of the spouses was married before.

Furthermore, it should be clearly stated whether the bride or groom is Muslim or not.  This letter will be verified by the Ministry of Foreign Affairs. Although, it is a common practice that the majority of religions expect the families' approval for an interfaith marriage. We recommend further booking the legal appointment with Al Shaiba Advocates – Ask The Law, and grab the advanced and most updated knowledge about this. Expert Family Lawyers are there to help advise seekers. Learn More here about Personal Status Advocates and Legal Consultants.